Cones & Dishes
Our mouth-watering ice cream loves a good pairing. You will, too, when it's combined with a traditional Cake Cone, Sugar Cone, Waffle Cone (try it hand-dipped in chocolate!) or Waffle Bowl. With choices like that, there's no wrong way to serve up a scoop.
pints & quarts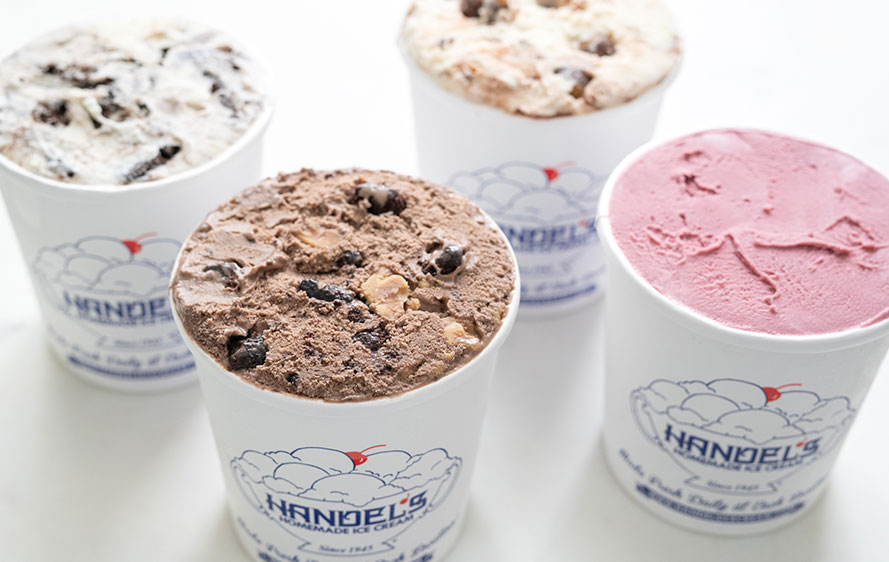 The proof is in the pints filled with over 100 flavors of our homemade ice cream, sherbets and ices. Call ahead so you can skip the line and get home to hide your secret stash in the freezer faster.
sundaes
Sundae lovers rejoice, because it doesn't get any better than this. We start with our homemade ice cream, let you make it your own with toppings like Caramel, Marshmallow, Strawberry, Peanut Butter and Hot Fudge, then cover it all with a glorious mountain of whipped cream and a cherry on top. Also available are our special Blondie Sundae, Hot Fudge Brownie Sundae and Turtle Sundae!
Hurricanes
One part world-famous vanilla ice cream. One part Butterfinger®, Chocolate Chip Cookie Dough, Heath Bar®, M&M's®, Oreo®, Reese's Peanut Butter Cup®, Reese's Pieces®, Snickers®, Fish Bait, Strawberry Cheesecake Chunk, Chocolate Brownie Chunk or Chocolate Covered Strawberry. We blend it up beautifully so every bite leaves a smile on your face.
shakes
From Banana to Vanilla Caramel Brownie and every one of our homemade flavors in between, you get to choose the ice cream that makes up one of our fresh, creamy milkshakes. Just add a straw, sip away and enjoy the ultimate hands-free delight.
Handel Pops
How do we make Handel's homemade vanilla, chocolate or mint chocolate chip ice cream even better? Easy. We cover it in rich gourmet chocolate and serve it up on a stick. Super handy and irresistible.
More to enjoy
Malts, floats and more, oh my! Level up your love of Handel's with extra delicious delicacies for the whole family, including Frosty Paws® or Dogsters® for your four-legged friends, Popsicles® featuring your favorite characters and even chocolate covered bananas.